Over the weekend I had my eye on a cute shop in Old Town Temecula. The Old Town Spice and Tea Merchants really caught my eye. When something catches your eye you must poke your head in, right? Well that's exactly what I did. When I walked in, I must say the staff was warm and friendly. They answered my questions as I began to look around.
There were many products in the shop that interested me. I was surprised to see the different flavor- infused sugars and honeys they have. To name a few they had cranberry sugar, pumpkin sugar, honey sugar, lemon sugar and salted caramel sugar and many, many more to choose from. To my surprise, it was eye opener to see habanero infused honey and a wildflower honey. If you love honey this is the place for you. They also had raspberry, orange, avocado and blackberry honey. So awesome, right?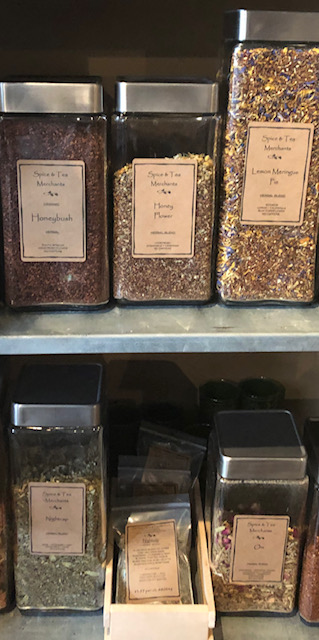 Let's talk about the teas and herbal blends. Ummmm let me tell you I was in tea heaven. ? I sampled the Lemon Meringue Pie herbal blend and "wow" was it amazing. What I loved about the Lemon Meringue Pie was that it was super flavorful. You could really taste the cream in it as if you were really eating the pie. I was in love and I even took an ounce home with me. The Old Town Tea and Spice Merchants gifted me the Lemon Meringue Pie, Thera-tea and the Night Cap.
The Thera-tea was great for my digestion. Some of ingredients are turmeric, ginger, and cinnamon. This infusion of spices is awesome for reducing gas and promoting circulation. The taste was phenomenal. My husband smelled the Thera-tea as I was making it and I was a little jealous that I had to share this delicious infusion with him. He loved it too, but I told him he gets one cup and then he must go and buy his own. ? When I was getting ready for bed that night, I tried the Night Cap. It was very calming and relaxed me. Night Cap has chamomile, mint, hops, sage, and rosemary. Having these ingredients also may help alleviate cold symptoms. With the funny weather we are having in southern California I ended up making my kids a cup. I must say they really enjoyed it and they were off to sleep.
As I made my way to the spices, I couldn't leave without getting the Cajun, Texas rub and Spicy Fajita blends. They are beyond tasty. They really add a kick and pizazz to any dish. My son loves to cook, and he really loves the Cajun rub that I caught him sprinkling it in his soup to give it more flavor. This immediately let me know that the spices here are not just for meats but whatever you desire to put it on. So, I decided to sprinkle the Spicy Fajita on my chicken salad, and it was very tasty. I'm not going to lie, my husband thought my son and I were weird, so he kept it traditional by putting the Texas rub on his rib-eye steak. I made him share with me and I must say I LOVED it. The Texas rub is one of our favorites.
IF you are ever in the area this is a great shop to stop by. Old Town Spice & Tea Merchants are located at 41925 Fifth Street #101, Temecula, CA 92590 and are open seven days a week. IF you are not in the area check out their website at https://spiceandteamerchants.com/ you will be happy you did.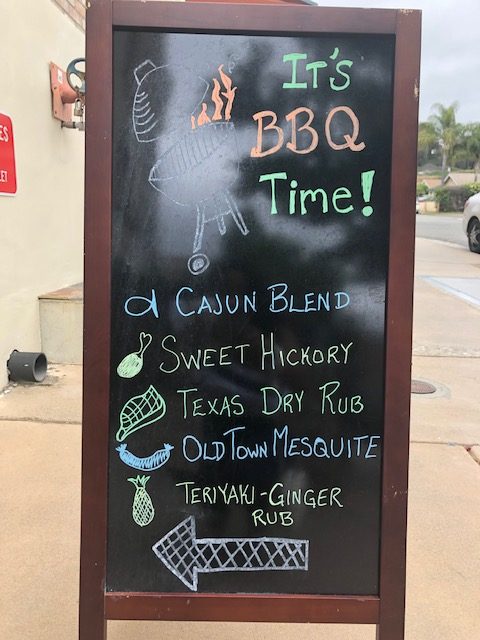 XOXO