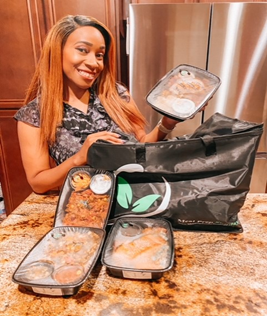 Working full time, being a mom and wife life gets extremely busy. So, when I heard about Meal Prep Sunday San Diego, I jumped at this opportunity to simplify my life.  What's so interesting about Meal Prep Sunday San Diego is that their food is never frozen, the produce is fully organic, the chicken is free-range and its grass-fed beef.  So, I was jumping for joy because its everything I wanted in a meal prep company.
Meal Prep Sunday San Diego has spoiled me, and they don't even know it…. LOL. Their team is made up of culinary professionals that develops fresh seasonal recipes for everyone to enjoy. Literally I just grab my meal and head out work and there was enough for me to share with the entire family. The food is good quality and healthy.
Sunday mornings is when I get my delivery from Meal Prep Sunday San Diego, however you can choose whatever date works for you. Let me tell you, when my package of food arrives it's like Christmas every week because I'm such a foodie. ? Their packaging system is down to a science.  First of all, the food comes in a nice tote packed with ice packs to keep the meals fresh.  It gets even better, each of the meals are vacuumed packed so that the food naturally stays fresh for up to 7 days after delivery. How awesome is that? I love it because I don't have to worry about the food going bad because I know I will eat it all within that week…lol.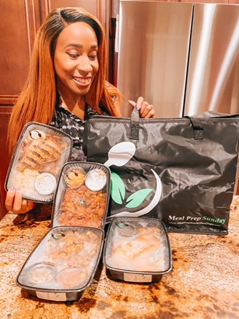 My favorite meal by Meal Prep Sunday San Diego is the Apricot Glazed Salmon. Can you say YUMMY!!!!  Just know that Meal Prep Sunday San Diego accommodates your allergens which is great because you can modify your meals to your liking. All of the meals are flavorful and filling.  My kids liked the meals too.  So, you know if it is kid approved then the food is a win, win.
I just love having Meal Prep Sunday San Diego in my life because they have simplified my life so much.  The service is convenient and affordable for all.  Don't you want your life to be more simplified?  Meal Prep Sunday San Diego is the way to go.  Since I've had this service, I am able to spend more time with my family because I am not rushing home after work to cook.  The meals are already prepped. Its such a relief. Again, I can't stress to you enough how you should give Meal Prep Sunday San Diego a try. I'm about to eat another meal from Meal Prep Sunday San Diego so bye for now. ?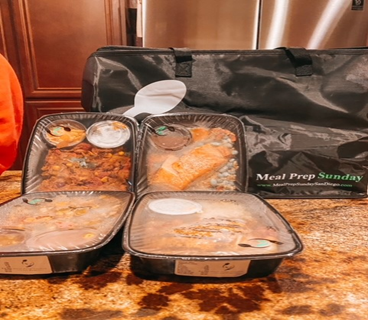 XOXO