When you drink tea it's an experience not just a flavored hot cup of water.  It's an experience because of all the benefits it can bring you and it's great for self-care.  One of the tea companies that I absolutely love Is Birds and Bees teas.  All their teas are organic, and they come in recycled steel tins.  How awesome is that??  I was able to get the Inner peace Tea, Grounded Organic Tea and my favorite the Family Immunity Tea.  All the teas are loose leaf which is GREAT!!! I will talk about all the benefits that each tea has brought me.
            As I sipped the inner peace, I felt a sense of calmness come over me. One of the ingredients in the inner peace tea is skullcap.  Skullcap is known to treat menstrual disorders, nervousness, digestive and kidney problems.  Many women drink teas with skullcap when they are pregnant because of the queasiness they experience. The inner peace tea has soothing blends of lemongrass, ginger, and peppermint which will calm your insides. I have a sensitive stomach, so this is perfect for me to drink daily.  The hormonal transition into pregnancy can be challenging to our system, so why not sip your way back to peace.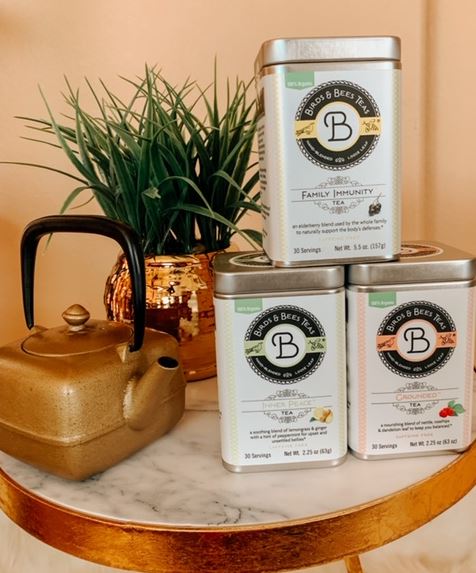 The grounded organic tea is a Red Raspberry leaf tea. What I like most about this tea is that it is great for supporting the liver and blood.  The taste is amazing as well.  You probably didn't know that Red Raspberry Leaf is one of the most nourishing herbs for the uterus, did you.  Let me tell you, this herb is highly astringent and helps to tone the uterus and regulates blood flow. As women we need this added support for our bodies.  This herb is most effective consumed over an extended period, which means have two cups at least two cups per day.  You will feel the difference as well as I did.
            My ultimate favorite is the Family Immunity Tea. The name of this tea speaks volumes because the kids love it too.  One of the benefits of the family tea is that it is full of natural immune system boosters. You heard me right NATURAL IMMUNE SYSTEM BOOSTERS!!!!  The Family immunity tea is an antioxidant powerhouse! This tea is a proper first line of defense during cold and flu season.  This tea worked absolute miracles in my home.  When my son had gotten the cold, he sipped this tea throughout the day, and felt better.  His energy level was up, and he started asking for this tea. If your kids are requesting something that means it must stay stocked in the house, right?  This tea is a favorite in my home, and I make sure we never run out. My kids love when I freeze this tea and make
them "immune boosting frozen pops."  That is a favorite for them. You can enjoy this tea on a regular basis by the whole family. Family Immunity Tea is a delicious remedy to the "why are we sick all the time" concern. Best enjoyed hot with a touch of raw honey.
            Not only does loose leaf tea support your body in different ways, it is also an important time for self-care. As women we help our spouses, children all while working full time jobs or being a stay at home.  Throughout the day we are ripping running so why not take time out and sip on some tea from Birds and Bees teas.  The teas has many wonderful benefits and you owe it yourself to take care of you.  Indulge in self-care and sip some tea your body will be happy you did.   
XOXO